All CSE Yearbook orders placed before Friday, March 24th will be placed in a drawing for a $25 gift card! Order through myschoolbucks.com, with cash, or a check. They are $40.00.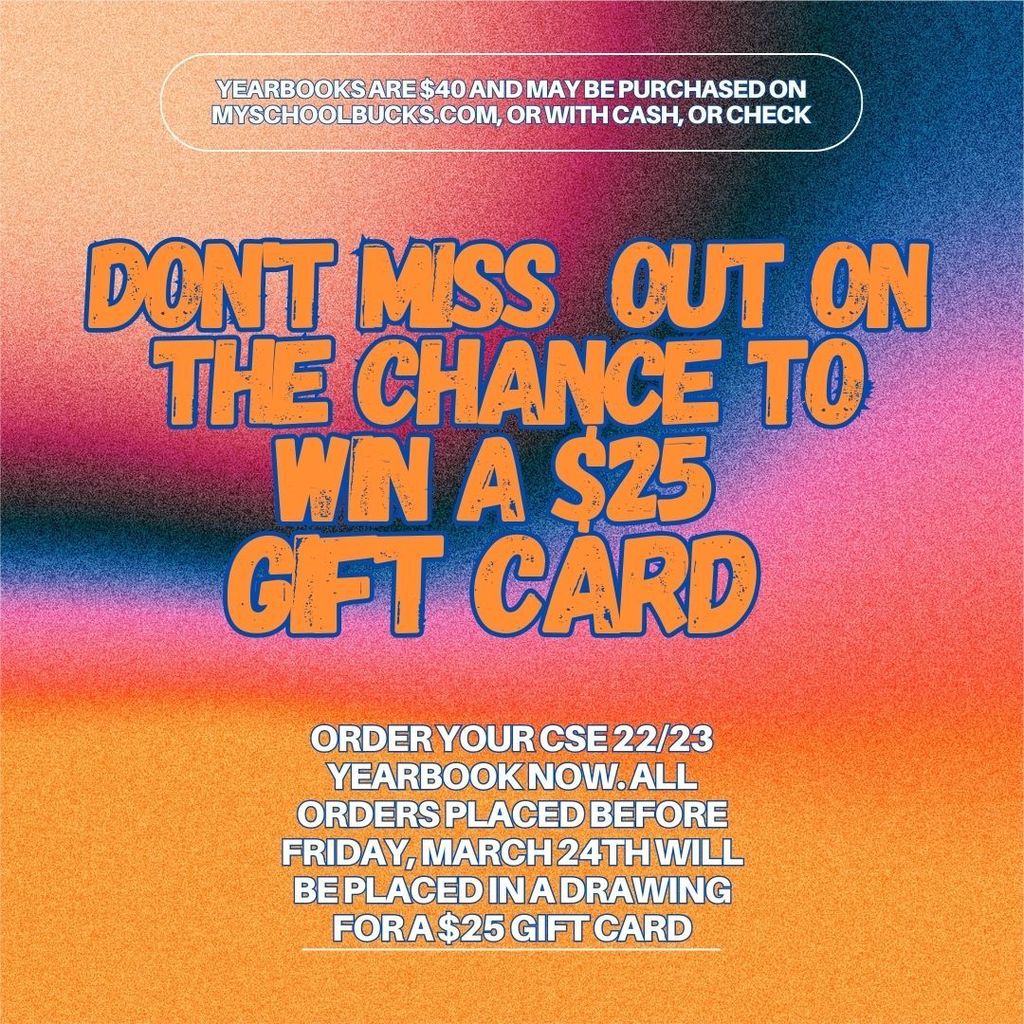 Congratulations to Saben Creel for being recognized as our 5th-8th grade Success Through Service Leader for the 3rd 9 Weeks. Saben is a quiet and often unnoticed leader among his peers. He is prepared for class and prepared to learn every day. He is ready before the bell rings, is attentive, asks pertinent questions, and is an awesome table leader in any group in which I place him. He quietly and patiently guides other students through learning activities in the classroom. He is usually the first person to perceive that another student is in need of something - and he provides what they need (pencil, eraser, Chromebook charger, etc.) I even saw him give money to a student who wanted a Kona ice. He then realized he did not have enough money for his own Kona ice after giving money to the other student; however, he didn't try to get back the money. He never mentioned it at all to the other student. He just did without.

Congratulations to Aaron Holcomb for being recognized as our 1st-4th grade Success Through Service Leader for the 3rd 9 Weeks. Aaron is a great candidate for the servant leadership award because of his integrity and kindness towards others. He is very selfless, tender-hearted, and considerate of others. He consistently gives of himself to his classmates and teachers in any way he can and is always eager to help those in need. He does what is right at all times, no matter who is watching. He is often the one cleaning up messes that others make without being asked, cleaning up the classroom, and giving his school supplies to those who need it. Aaron encourages classmates to be better and sets a wonderful example for what a true servant leader is.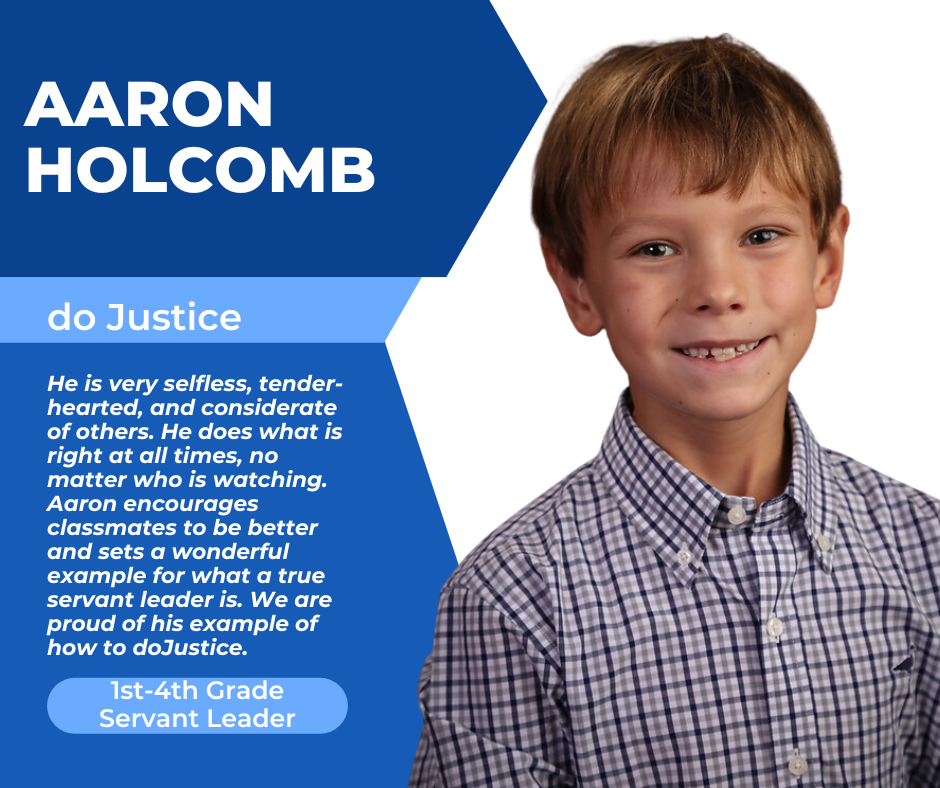 Congratulations to Sawyer Trimble for being recognized as our Pre-Kindergarten Success Through Service Leader for the 3rd 9 Weeks. Sawyer is always helping others and a great friend to everyone. He is a great leader in the classroom. Sawyer is a great example of what it means to loveKindness and be a servant leader.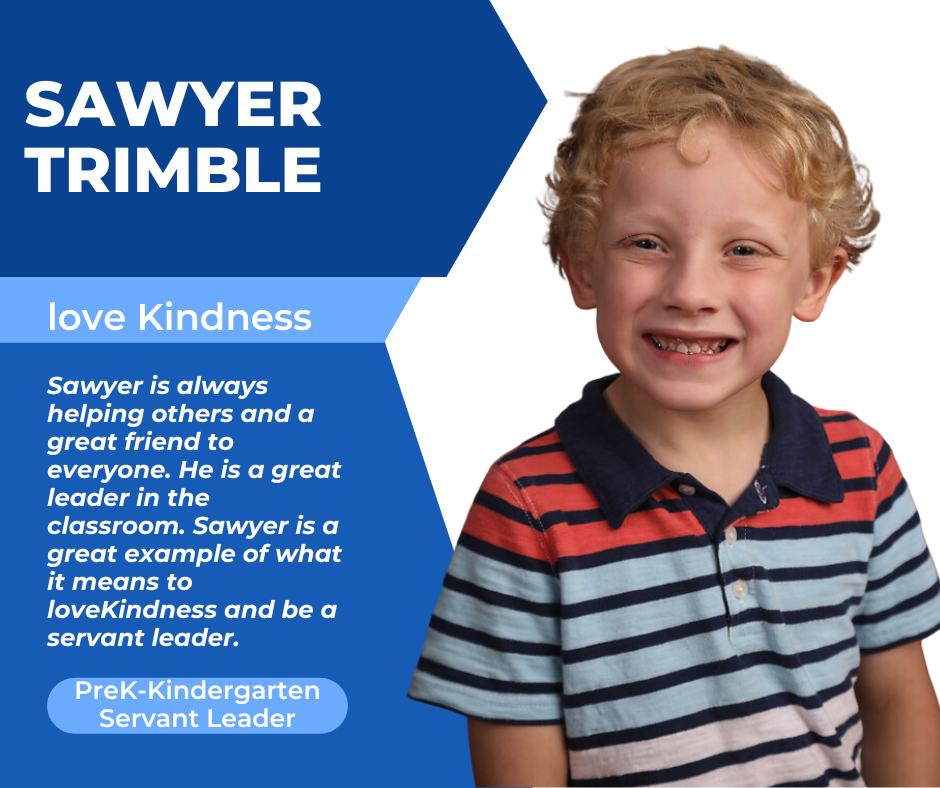 Congratulations to Mr. Parker and our 6th, 7th, and 8th Grade Math Teams. Each Team took home 2nd Place Overall in the CCBOE Math Tournament.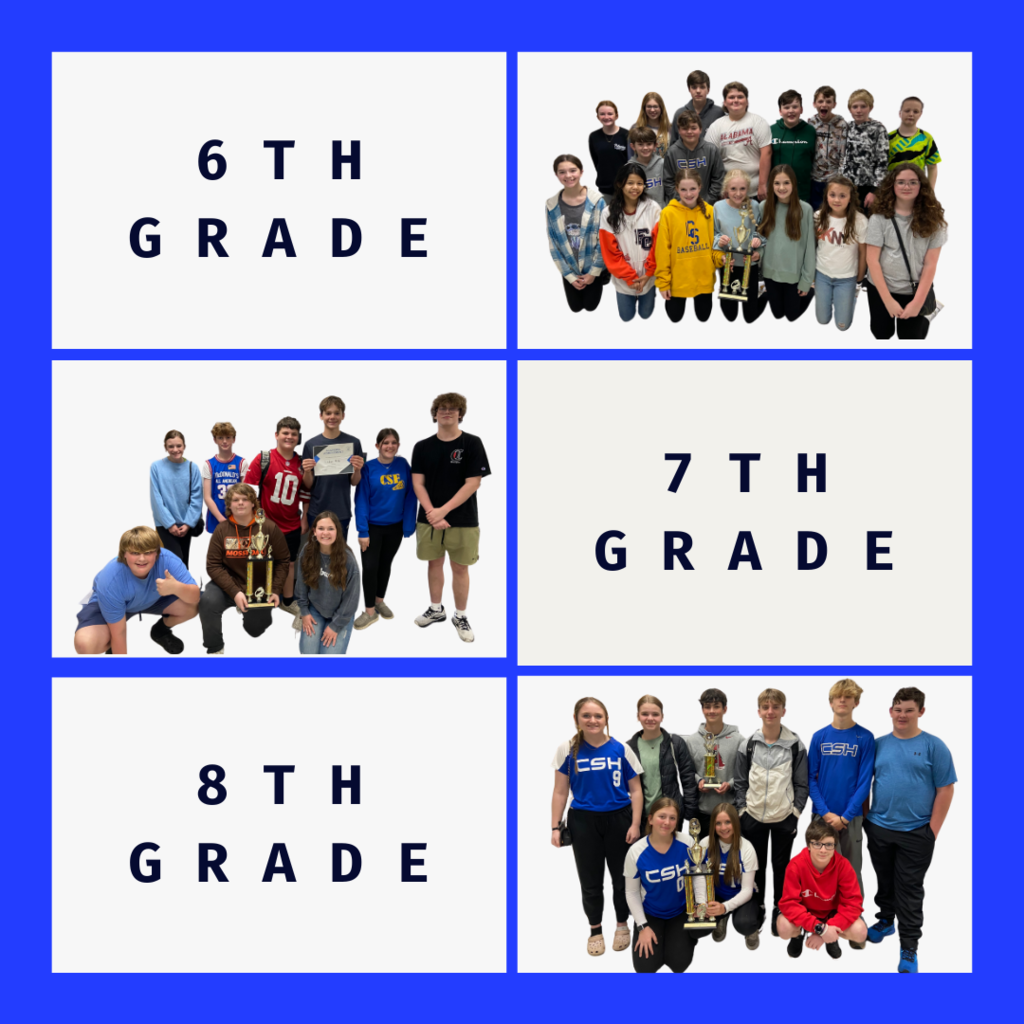 One week left to be part of the drawing for a $25 gift card by ordering your CSE 22/23 Yearbook!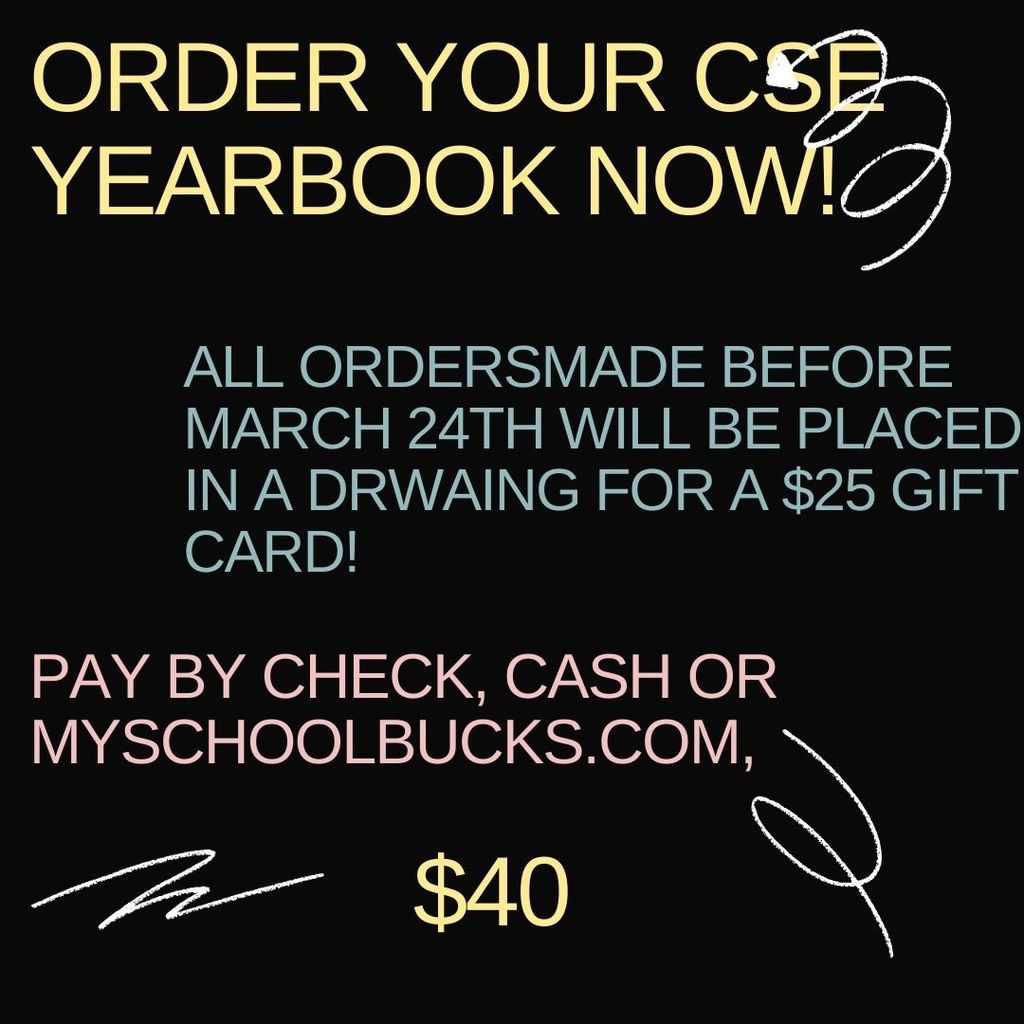 The 5th grade classes started their Student Publishing Journey and created a book called Oh, the Places We Want to Go. We had an Author's Celebration party today. 🎉 📘🎉 We hope someday the students will travel to the places they researched and wrote about, and it brings back memories while they enjoyed being little authors in the 5th grade. Oh, the Places You'll Go! #DrSeuss 🎉🎈🎉🎈🎉🎈🎉

CSE Yearbooks for this school year are available for order now until April 12th. They are $40 each and may be purchased through myschoolbucks.com, cash, or check. All orders placed before March 24th will be placed in a drawing for a $25 gift card!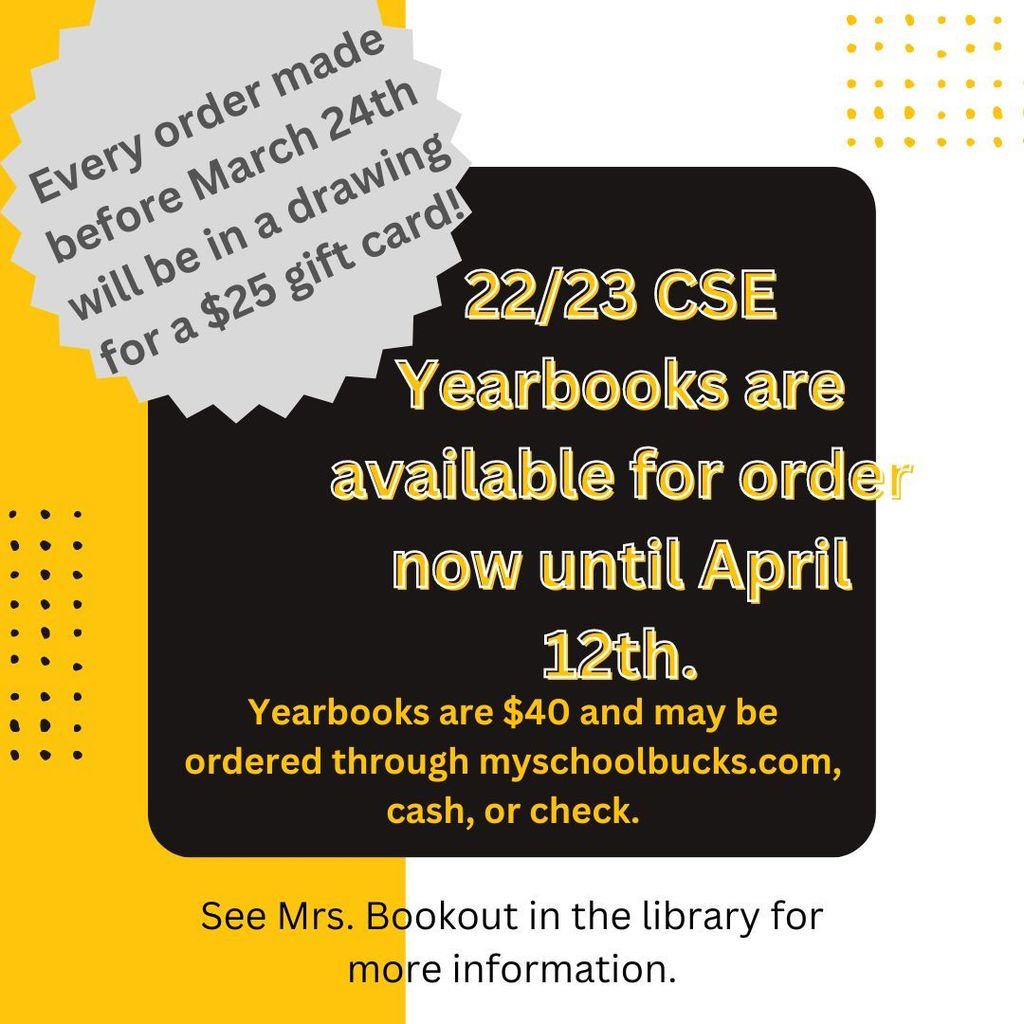 Don't forget to order your 2022-23 yearbook before April 12th! They are $40.00 each. You can pay with cash, check, or on myschoolbucks.com. See Mrs. Bookout in the library for more information.

Congrats to our Middle School Softball team on a great performance at the Meek Invitational Tournament this weekend and a 17-8 victory over Valley. Great work ladies!

Mrs. Calvert's class completed a Sea Turtle Ecology Class today to learn more about sea turtles. Thank you North Alabama Dive Center!

Our 2023-2024 First Class PreK Drawing is set for March 17th at 10am in the Elementary Library. You do not have to be present for your child to be placed in a classroom. Parents, you will receive an email when your child is accepted into one of our classrooms. #csePreK #thefutureslookinggoodtome

2022/2023 CSE Yearbooks are available for order now thru April 12th. Order forms are available in the Elementary Office or from Mrs. Bookout. Your payment of $40 may be made through myschoolbucks.com, check, or cash.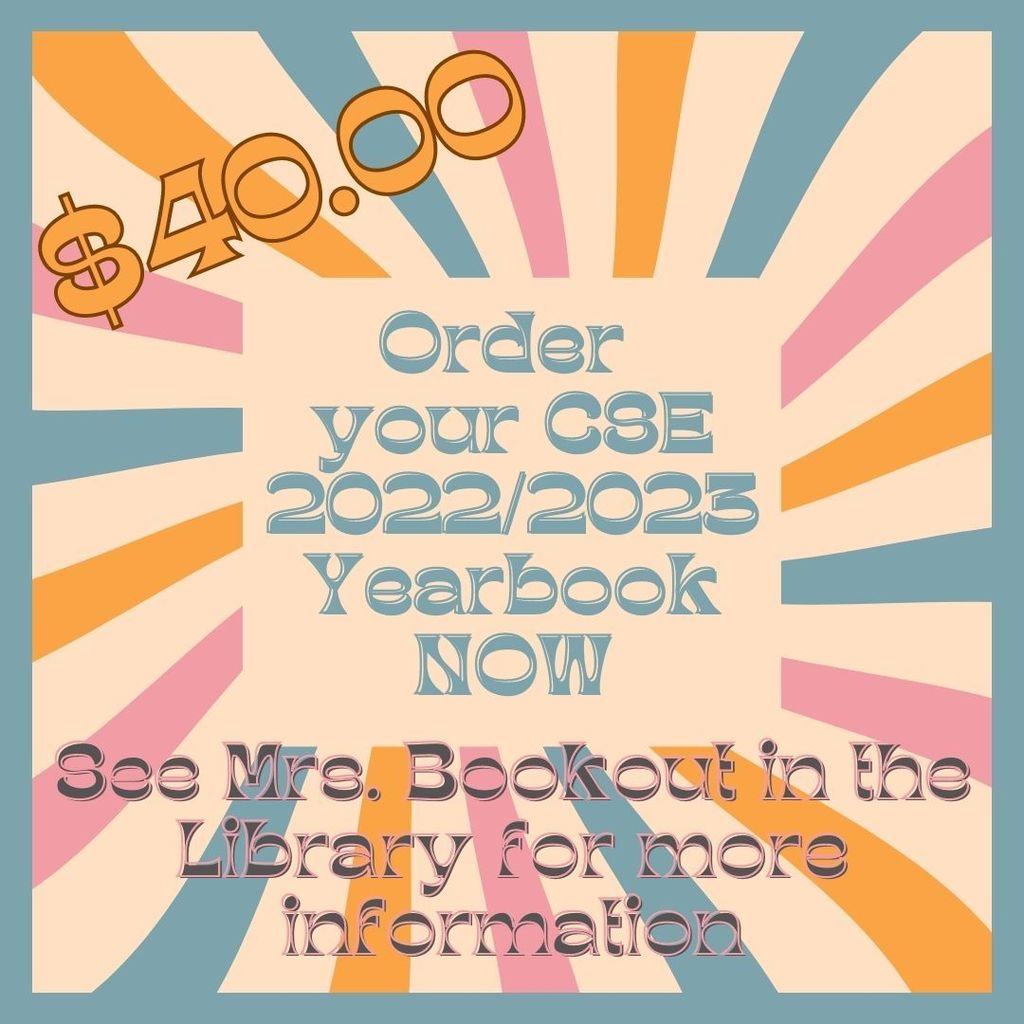 Ms. Hood's class took advantage of the pretty day to read outside!!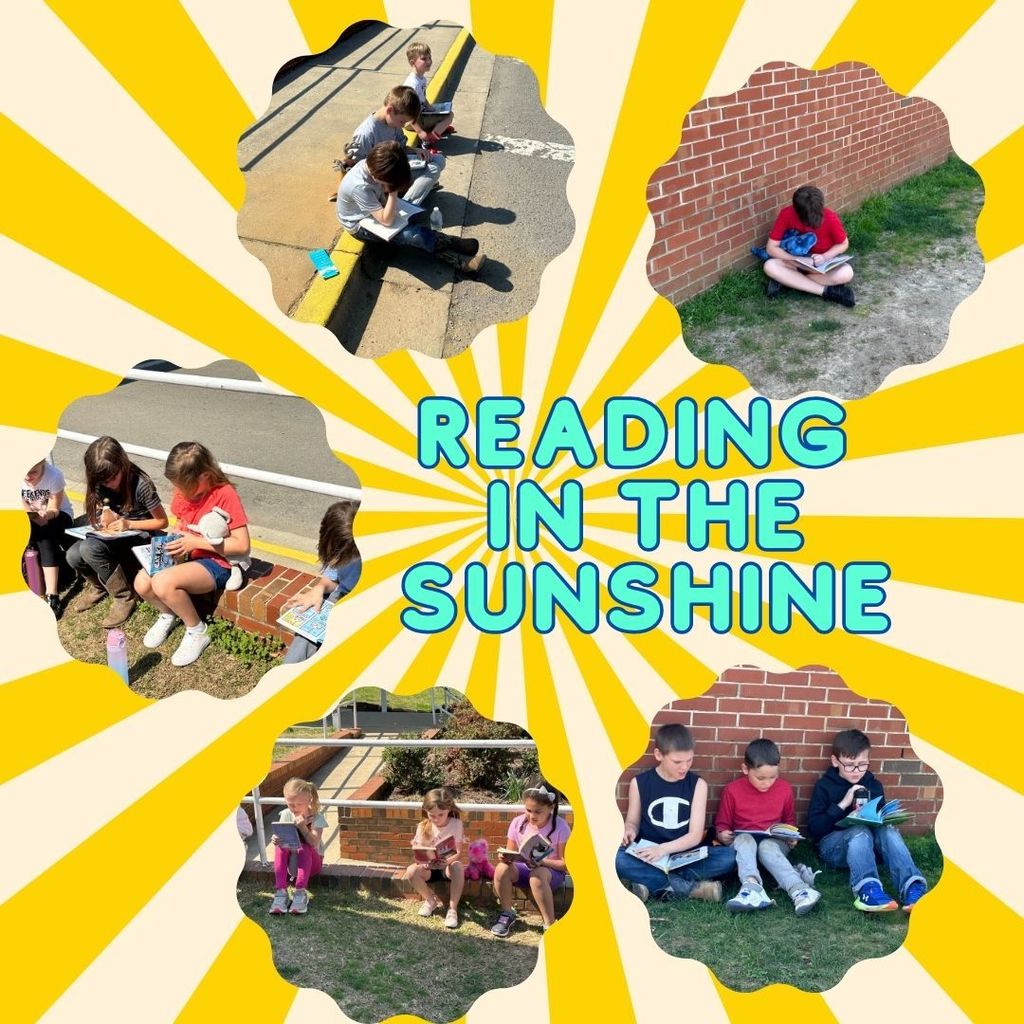 Cold Springs Elementary yearbooks for this schoolyear are available for order now thru April 12th. They are $40.00 each and may be purchased with a check, cash, or on myschoolbucks.com. If you have any questions or need an order form, please contact Mrs. Bookout in the Library.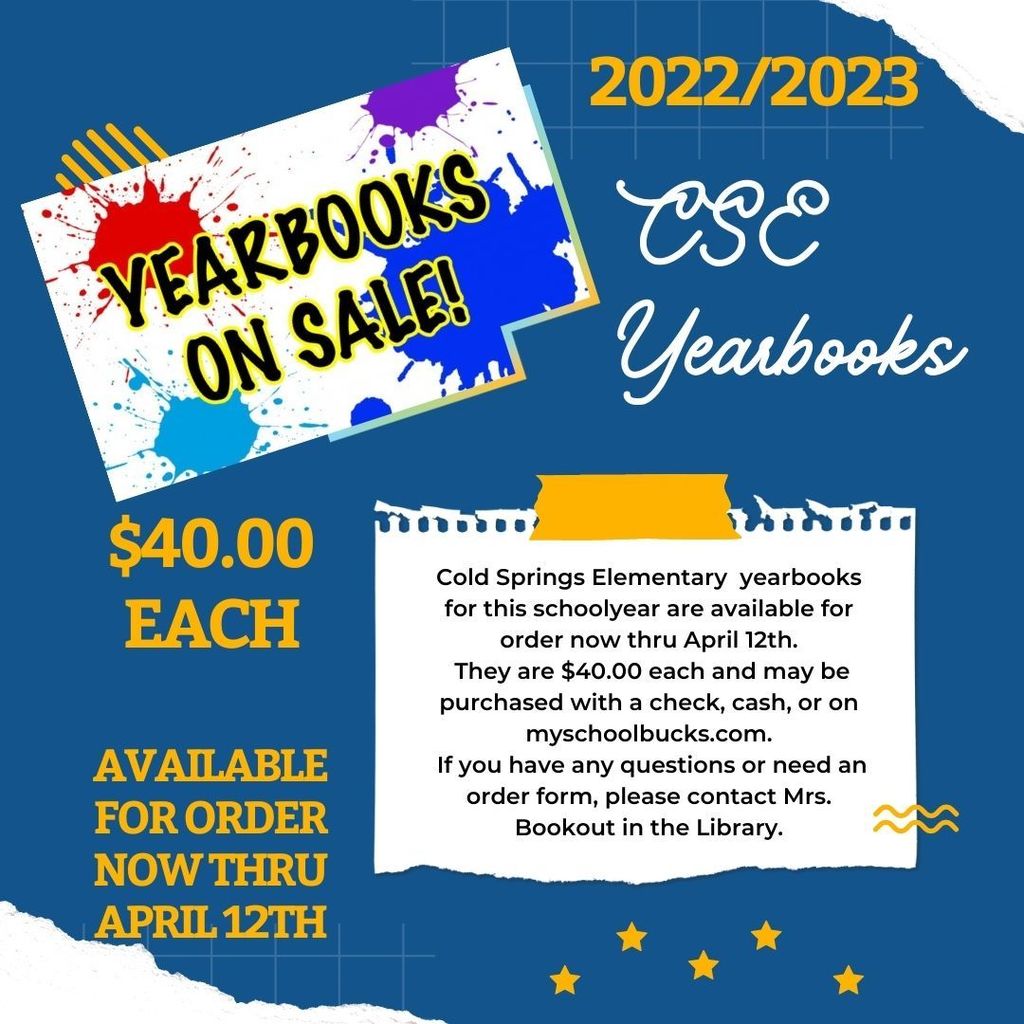 Congratulations to our CSE Science Fair Winners: Colin, Alexis, Isabelle, Nora, Oaklee, Ryland, Eli, Leo, Ian, Henley, Joseph, Aiden, Nash, Caleb, Emily, Skylar, Logan, and Liam. Great job to all of our participants!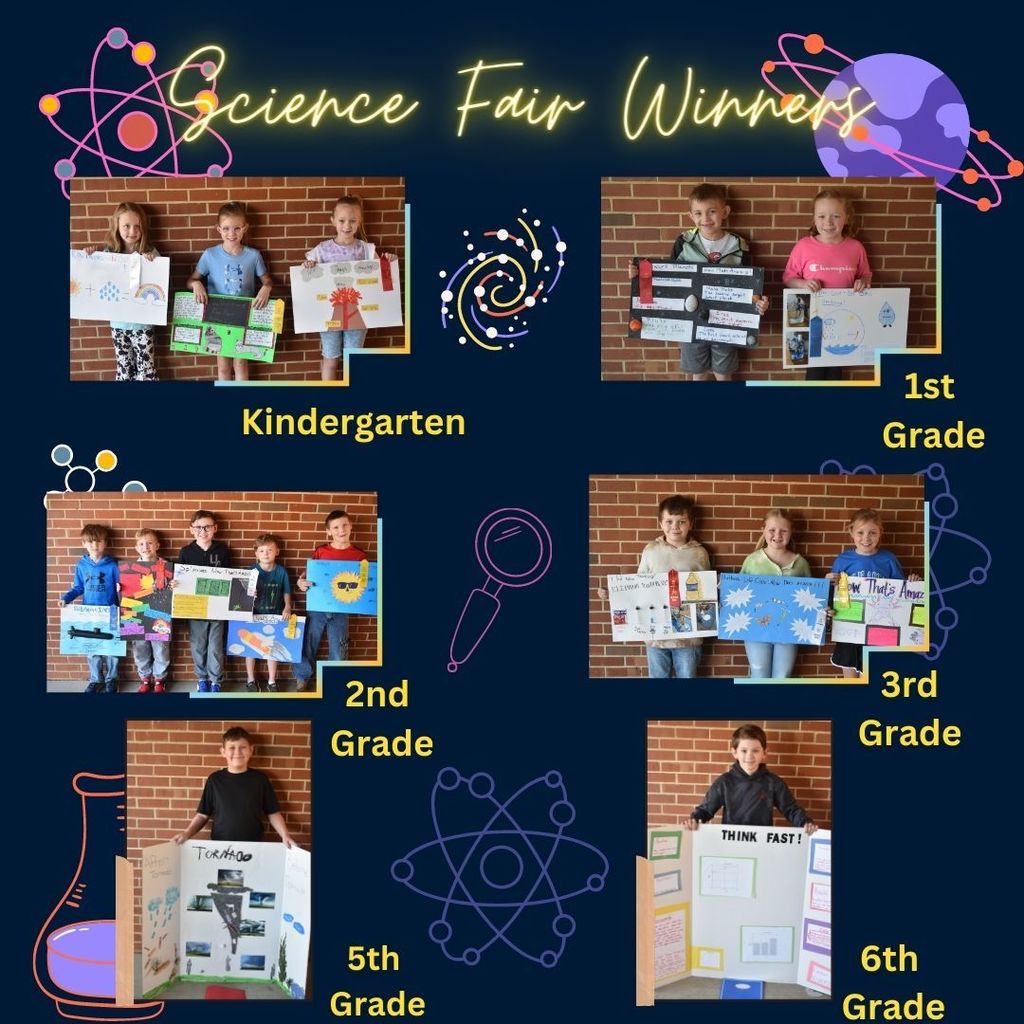 Lace up your running shoes for the Cold Springs Life is Art 5K and Fun Run tomorrow, March 4th 7:00-7:30 Registration/Packet Pick up at the Football Field -you are welcome to sign up tomorrow morning 7:50 Welcome and Race Instructions 8:00 5k Race Begins 9:00 1 Mile Race Begins Donuts will await finishers after the race! 10:00 Awards 10:00-12:00 Food Trucks, Craft Vendors, Free Family Art Activities Stone's All Fired Up and Sachmo's BBQ will have lunch options. Frio's Gourmet Pops will also be set up with tasty treats! Come hungry, run/walk up an appetite, and leave full and satisfied. COLOR is the theme of the day. Being that this whole event is to raise $ for the Art Department, we want to see as much color in the day through student art and in race attire! Dress as you wish, but if you so choose, dress as COLORFULLY as you can. $25 Dick's GC's for the most colorfully dressed male and female from the 5K and 1 mile.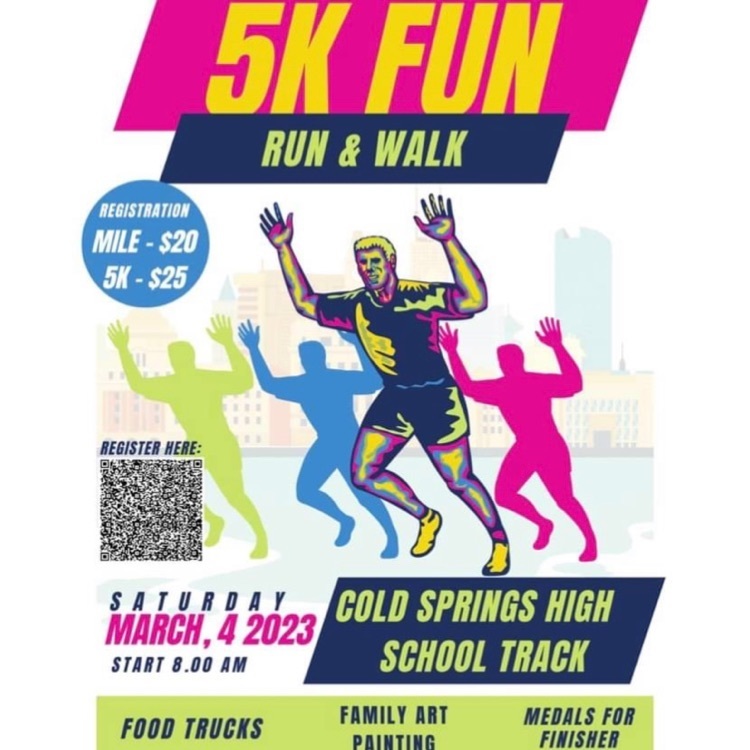 Drop Everything and Read was so much fun for Mrs. Shadix 3rd grade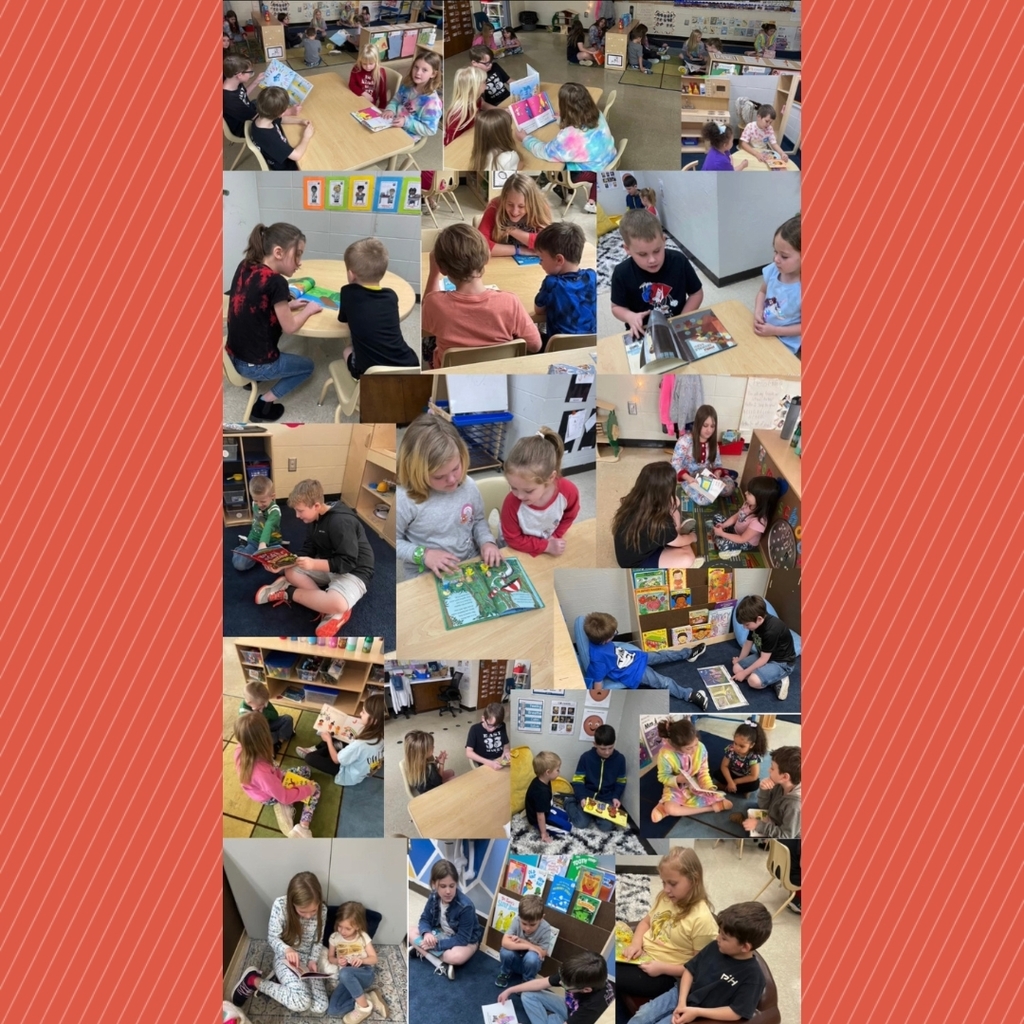 Mrs. Myers class loved Drop Everything and Read day!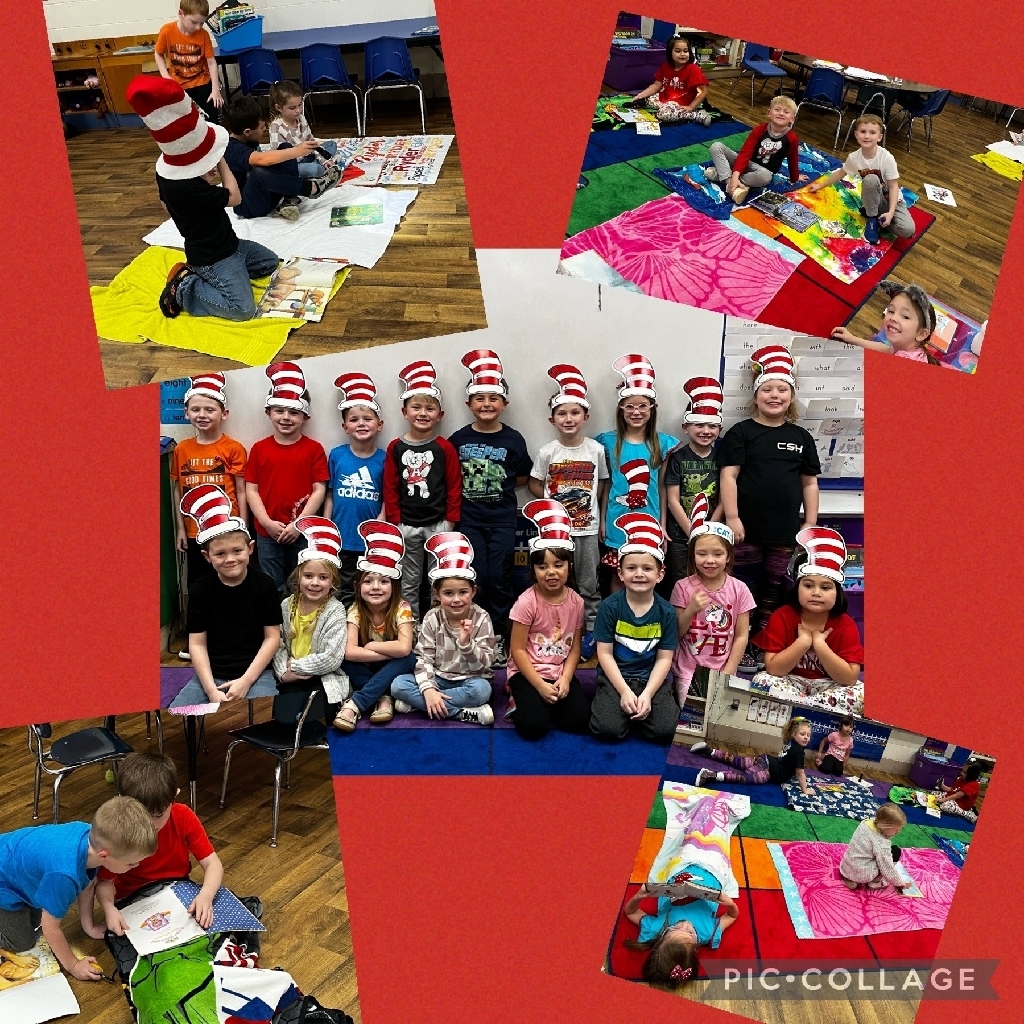 Mrs. Johnson's Kindergarten class had a great time today with Drop Everything and Read!